Showcase
This is an extravaganza of exceptional dance!  New works, company competition performances, and specially selected classes are showcased at a beautiful theater location.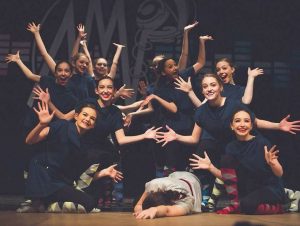 Showcase 2020
Showcase will be for all company group dances, selected classes, and Senior and Junior solos.
Sunday, February 23rd, at Ponderosa High School (7007 Bayou Gulch Rd, Parker, CO 80134). The show starts at 2pm.

Tickets will be general admission for $16 and will be sold at the studio and at the door.

Dress Rehearsal for Showcase is Saturday, Feb 22nd at the studio. 1:00-4:30pm. Dancers may leave after their dance/dances are done. Hair, make up and all costume elements are required.

Blocking rehearsals at Ponderosa High School (see below): No costumes, just go to the auditorium in practice clothes.  Closed rehearsal – no parents.
SHOWCASE 2020 Videos:
Showcase 2020 Dvd Order Form – Click here to download the dvd order form. Ninja Boy Productions is now taking orders, just call the number on the form!
SUNDAY BLOCKING REHEARSAL SCHEDULE:
12:30-12:40-Ballet 4, Shelly
12:40-12:50-Tap 3, Tap 4, Sydney/Maggie
12:50-1:00-Reach Company, Lexie
1:00-1:10-Explore Company, Sydney
1:10-1:20-Mini Company, Maggie
1:20-1:30-Teen Jazz 3/4, Lisa
1:30-1:40-Teen Jazz, Lisa