The Little Mermaid
CHARACTER PAGE
Welcome to the Little Mermaid Character Page, this page will contain all information for you regarding audition results, rehearsals, and performances. If you auditioned and were cast as a character, this page is for you!
---
GENERAL INFORMATION:
Click the link to see the information
CHARACTER COSTUME REQUIREMENTS:
Ensemble characters will be required to supply their own costumes. All costumes must be approved by Ms. Lexie, please bring costumes to rehearsal on June 11th for approval or email them to lexie@parkerdance.com
Sailors: White collared short sleeve shirt, black pants, jazz shoes
Seagulls: All white t-shirt and black leggings/pants, jazz shoes
Storm Dancers: All black leotard and leggings, bare feet
Villagers: Villager style costumes, jazz shoes, ballet shoes, character shoes are acceptable shoes (see photo below for ideas)
Wedding Guests: Nice party dresses (something you'd wear to a school dance or wedding) or button ups and ties with nice pants, jazz shoes, ballet shoes, character shoes are acceptable shoes.
Lobster Squad: Bright red t-shirts and bright red leggings, jazz shoes.
Daughters of Triton: Crown in the color you were assigned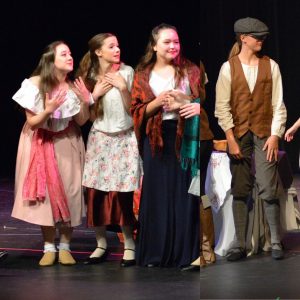 ---
CHARACTER AUDITION RESULTS
Several roles have been split into two or three casts (please see by character)
Please look at all roles as your name/number might be listed more than once. If cannot find your number please contact us, there may be a mistake! If you cannot remember you number, please also contact us!
ARIEL
SHOWS 1 & 4 – Lauren Lindberg
SHOWS 2 & 5 – Sarah Chei
SHOWS 3 & 6 – Natalie Weaver
URSULA
SHOWS 1, 3, & 4 – Hannah Perry
SHOWS 2, 5, & 6 – Emily Chei
SEBASTIAN
SHOWS 1, 3, & 4 – Quincy Elbert
SHOWS 2, 5, & 6 – Ruby Booze
PRINCE ERIK
ALL SHOWS – Gavin Elbert
KING TRITON
ALL SHOWS – Derek Abts
SCUTTLE
SHOWS 1, 3, & 4 – Molly Morrill
SHOWS 2, 5, & 6 – Hannah Kubala
FLOUNDER
SHOWS 1 & 4 – Kate Russo
SHOWS 2 & 5 – Annika Bagwell
SHOWS 3 & 6 – Sidney Greene
FLOTSAM & JETSAM
SHOWS 1 & 4 – Alyssa Benik & Molly Dunagan
SHOWS 2 & 5 – Nico Santos & Sammie Harper
SHOWS 3 & 6 – Maddie Fuller & Cali Gardner Abts
GRIMSBY
SHOWS 1, 3, & 4 – Rachel Reed
SHOWS 2, 5, & 6 – Talia Estrella
THE COOK
SHOWS 1, 3, & 4 – Daphne Kurtz
SHOWS 2, 5, & 6 – Maya Wightman
DAUGHTERS OF TRITON
ALL SHOWS – Kesley Brandt, Ella Morales, Victoria Garces,
Jordan Gietl, Amelie Steere, Kaylee Sesko
SAILORS
Fathoms Below – ALL SHOWS
16, 14, 51, 32, 33, 47, 37, 41, 11, 15
SEAGULLS
Human Stuff – ALL SHOWS
38, 50, 40, 43, 34, 42, 8, 31, 49, 3, 100, 20, 48
STORM DANCERS
The Storm – ALL SHOWS
9, 15, 27, 22, 30, 24, 31, 5, 7, 30, 45, 29, 25, 36, 13, 9, 10, 39
VILLAGERS
Beyond My Wildest Dreams/One Step Closer – ALL SHOWS
12, 26, 6, 23, 17, 18, 35, 38, 50, 43, 34, 42, 8, 46, 28, 21, 47, 4, 48
WEDDING GUESTS
Chapel of Love/Wedding Chaos – ALL SHOWS
16, 14, 51, 32, 33, 38, 50, 43, 34, 42, 48, 47
LOBSTER SQUAD
Wedding Chaos – ALL SHOWS
12, 26, 6, 23, 17, 18, 35